News
WoRMS 15 years: pre-order your WoRMS t-shirt now!
Added on 2022-11-04 08:48:32
by Vandepitte, Leen
To celebrate its 15th anniversary, the World Register of Marine Species (WoRMS) is releasing a one-of-a-kind t-shirt.
In 2007, the digitally available European Register of Marine Species (ERMS) expanded into a World Register of Marine Species, et voila,
WoRMS
was born. In 2022, WoRMS can be seen as the number one authoritative classification and catalogue of marine names.
Completing and correcting WoRMS requires an enormous continuing effort and is entirely dependent on the expertise and time of our editors. On top of that, it is a race against time as species are at risk of disappearing due to changing environmental conditions such as warming, pollution and acidification, before they are discovered.
To celebrate its 15th birthday and 15 years of collaboration with (taxonomic) experts all over the globe, WoRMS designed an exclusive t-shirt. By purchasing your WoRMS t-shirt, you support the sea. All profit goes to the VLIZ Philanthropy project "
Support the WoRMS editors
". Your purchase will be used to coordinate and disseminate funds to the WoRMS editors. Thanks to these funds, editors will be able to continue to fill gaps in coverage, expand the content and enhance the quality of taxonomic databases, attract interns and students to assist in the verification of taxonomic information, and purchase scientific literature.
The WoRMS t-shirt consists of 100% organic cotton and is produced fair-trade. Especially for this internationally branded WoRMS t-shirt we make use of a pre-order system, to offer you the most sustainable way of buying your item. Pre-order starts today, and will be open until 10 December. Only after closure of the pre-ordering, the production of the t-shirts will start, taking approximately 3 weeks. So shipping worldwide will take place in January. Your package will be sent in a bio-based polymer PBAT mailer bag, certified to be biodegradable in the compost bin.
Make sure you don't miss out on this unique opportunity!
Click on the following link to order your T-shirt now:
https://shop.vliz.be/collections/world-register-of-marine-species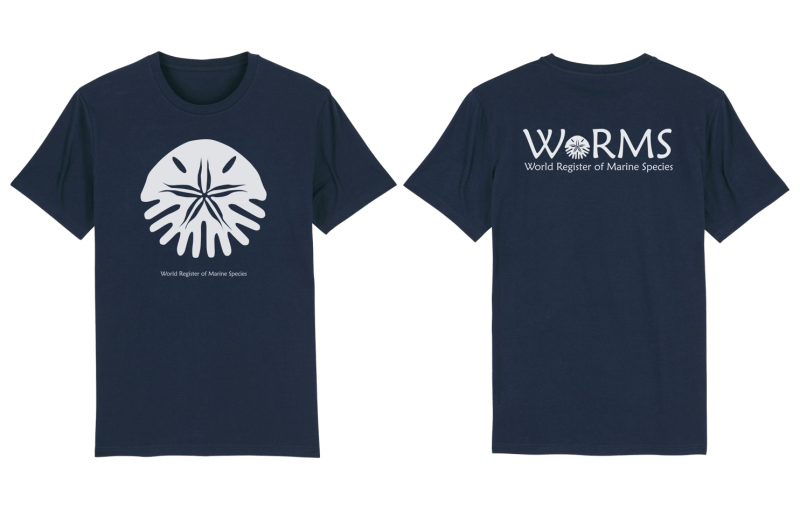 Link: https://shop.vliz.be/collections/world-register-of-marine-species
[
Overview
] [
Login
]