News
LifeWatch-WoRMS Nematoda Editor Workshop
Added on 2022-04-27 11:05:40
by Dekeyzer, Stefanie
In the week of 21-25 February 2022, ten Nematoda experts met online with the WoRMS Data Management team (DMT), to set priorities and clear goals for the extension on the integration of ecological and biogeographical information within Nemys.
Even during a global pandemic, the number of registrations on
Nemys
is regularly increasing, showing the importance of Nemys as a tool for those working on taxonomy and ecology of nematodes, and denoting the need of having a well-grounded website.
Furthermore, in the Nemys editor team, there was a clear need for discussing pending issues, such as completion of assigned tasks, expansion of geographic distribution and improvement of displayed images for each species, among other things.
The objectives of this workshop were: (i) to evaluate the work that was done over the past years and the maintenance of the database, (ii) to work on the expansion of the documented distributions of the species to apply the results in an article with ecological approach, (iii) to work on the expansion of good images to be displayed and exclusion of not clear or corrupted images, and (iv) to outline the next practices for outreach and scientific output for Nemys (e.g. scientific papers, presentations of the progress, plans and results at upcoming conferences).
Before the workshop, the editors took the online editor course on the Ocean Teacher e-Learning Platform. Guided by several videos, here the editors could go through the different steps of using the online Aphia editing platform.
During the week of February 21st, daily 2-hour online Zoom sessions were organized, giving the editors the opportunity to interact with the DMT regarding the online editing, but also to engage in discussions about specific topics and the future of Nemys.
The organization of the workshop and the support of the Data Management Team (DMT) are supported by
LifeWatch Belgium
, part of the E-Science European LifeWatch Infrastructure for Biodiversity and Ecosystem Research. LifeWatch is a distributed virtual laboratory, which is used for different aspects of biodiversity research. The
Species Information Backbone of LifeWatch
aims at bringing together taxonomic and species-related data and at filling the gaps in our knowledge. In addition, it gives support to taxonomic experts by providing them logistic and financial support for meetings and workshops related to expanding the content and enhancing the quality of taxonomic databases.
The report of this workshop is available through the link below.
Image: virtual group picture of workshop: top row (from left to right): Aldo Zullini, Stefanie Dekeyzer (DMT), Nicole Smol, Oleksandr Holovachov, Reyes Peña Santiago; middle row (from left to right): Tânia Nara Bezerra, Wim Decock (DMT), Vadim Mokievsky, Zeng Zhao, Ursula Eisendle, Bart Vanhoorne (DMT), Jyotsna Sharma, Virág Venekey, Leen Vandepitte (DMT).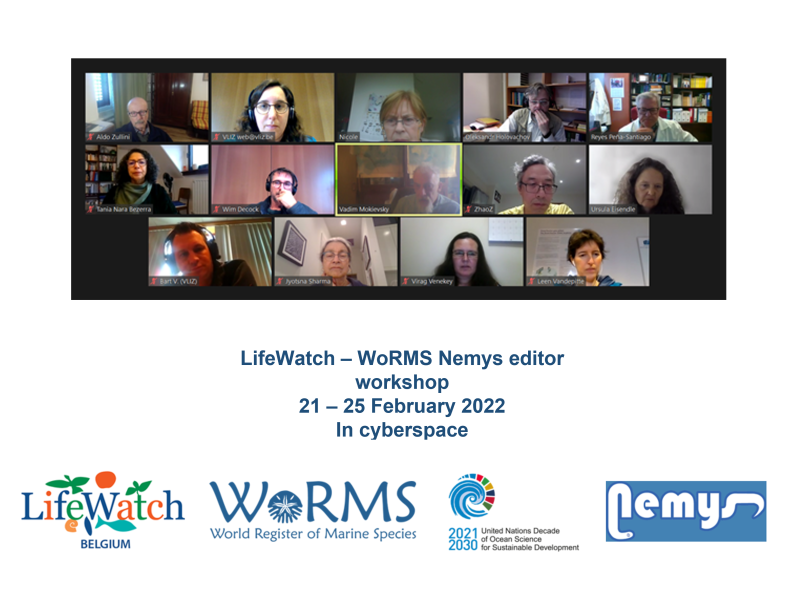 Link: https://marinespecies.org/documents/LifeWatch%20reports/editor%20workshop%20reports/20220221_Nemys_Workshop_Report.pdf
[
Overview
] [
Login
]