WoRMS Photogallery
---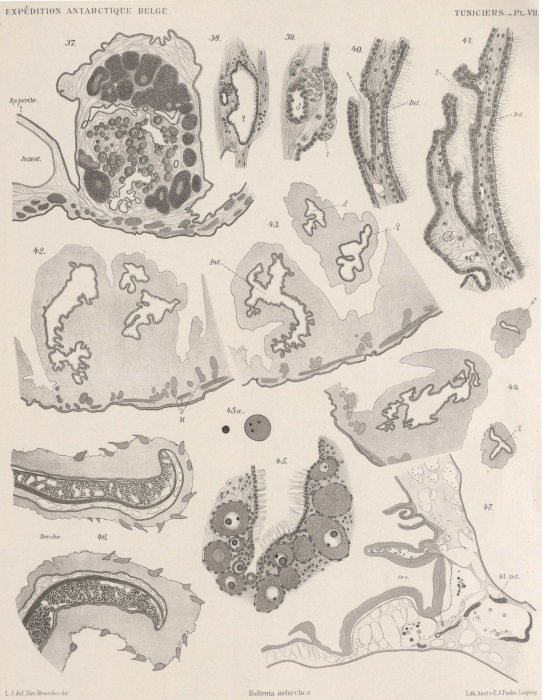 Van Beneden; de Selys Longchamps (1913, pl. 07)
Description:
Boltenia antarctica, synoniem van Pyura georgiana (vervolg)
Transversale doorsnede van de geslachtsorganen van de linkerzijde, ondergebracht in de darmlus. Exemplaar A. (Zie fig. 49, plaat 8, een andere doorsnede, passeert veel lager door dezelfde organen.) Vergroting: x48
Transversale doorsnede van het rechtergeslachtsweefsel, exemplaar C. Vergroting: x200
Sterker vergroot deel dan in de voorgaande figuur. Vergroting: x520
Mannelijke opening, linkerzijde van hetzelfde exemplaar, zoals getoont in de figuur van het geheel 30, plaat 6. Vergroting: x400
Vrouwelijke linkeropening, een beetje hoger gesitueerd dan de mannelijke opening. Vergoting: x400
tot 44. Doorsnedes van het rectum en van de geslachtskanalen, van beneden naar boven. Exemplaar A. Vergroting: x48 42. Doorsnede dat de geslachtskanalen toont, die samenkomen met het rectum en hiermee verbonden zijn in een uitpuiling van de wand van het lichaam. 43. De twee geslachtskanalen, gescheiden door het rectum, zijn onderling nog verbonden. 44. De twee geslachtskanalen, waarvan de openingen zich nog een beetje hoger bevinden, zijn nu gescheiden, elk op een afzonderlijke papilla.
Details van een deel van de eierstok, ontleend aan een naburige doorsnede waarvan figuur 37 het geheel geeft. Vergroting: x350 45 a. Sterk vergrote nucleoli (= kernlichaampjes). Vergroting: x1200
Longitudinale doorsnede van de buccale sifon. Exemplaar A. Vergroting: x29
Ingang van de slokdarm. Individu C. (Doorsnede ontleend aan dezelfde reeks als figuren 27 tot 30, plaat 6). Vergroting: x84

Author: E. Van Beneden; M. de Selys Longchamps
JPG file - 1.01 MB - 2500 x 3230 pixels [more]
added on 2009-08-18 - 1137 views
WoRMS taxa
Pyura georgiana (Michaelsen, 1898)

Boltenia antarctica Beneden & Selys-Longchamps, 1913 accepted as Pyura georgiana (Michaelsen, 1898)

From reference: Van Beneden, E.; de Selys Longchamps, M. (1913). Zoologie...


Click here to return to thumbnails.
---
Disclaimer: WoRMS does not exercise any editorial control over the information displayed here. However, if you come across any misidentifications, spelling mistakes or low quality pictures, your comments would be very much appreciated. You can reach us by emailing info@marinespecies.org or adding a comment, we will correct the information or remove the image from the website when necessary or in case of doubt.