WoRMS Photogallery
---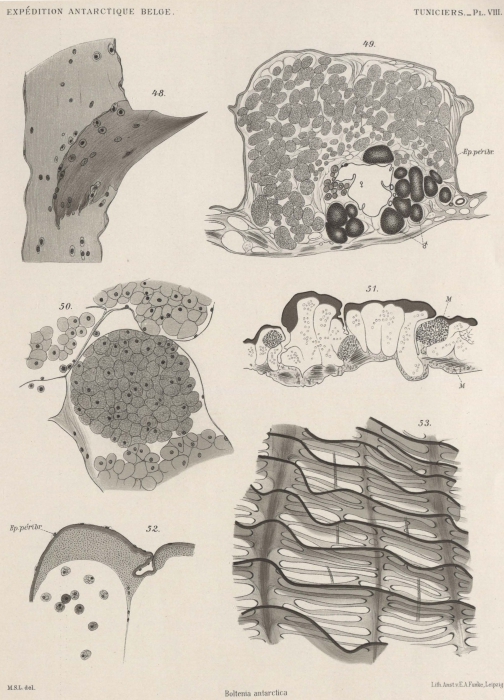 Van Beneden; de Selys Longchamps (1913, pl. 08)(1)
Description: (1)Deze plaat is de enige die niet samengesteld is uit figuren getekend door Van Beneden. => M. de Selys Longchamps.
Boltenia antarctica, synoniem van Pyura georgiana (vervolg)
Details van een stekel van de sifons (cf. fig. 16, plaat 5), dat zijn verbindingen toont met de externe tunica, in dewelke hij is gevestigd. Vergroting: x400
Transversale doorsnede van de geslachtsklier waarvan figuur 36, plaat 7, een andere doorsnede toont die veel hoger passeert dan deze. De doorsnede van figuur 49 betreft het onderste gebied van het orgaan in het bijzonder, het nabije deel van de eistok en de teelbal, het mesenchym (= embryonaal bindweefsel) dat ze scheidt van het peribranchiaal epithelium, sterk opgeheven, overwoekerd door een bepaald weefsel (renaal?). Vergroting: x40
Details van een deel van het renale weefsel (?). Vergroting: x400
Doorsnede, normaal aan het oppervlak, van de wand van het cloaca, dat de bloedsinussen toont waarin ze is gegraven. Deze sinussen, opgevuld met bloedcellen (waarvan slechts een klein deel is afgebeeld), worden gescheiden van de cloaca door een dik septum. Vergroting: x80
Details van een deel van de voorgaande figuur. Vergroting: x400
Deel van de kieuw, binnenzijde. Dit deel maakt deel uit van een plooi, en men kan zien dat de longitudinale lamellen meer de top van de plooi naderen (bovenaan de figuur) dan haar basis. De dwarse sinus, links gesitueerd, is een sinus I, terwijl de rechtse sinus een sinus II is en de middelste sinus is een sinus III. Men ziet bovendien de nog discontinue beginvormen van sinus IV, zo de poriën afsluitend.

Author: E. Van Beneden; M. de Selys Longchamps
JPG file - 881.37 kB - 2305 x 3205 pixels [more]
added on 2009-08-18 - 1080 views
WoRMS taxa
Pyura georgiana (Michaelsen, 1898)

Boltenia antarctica Beneden & Selys-Longchamps, 1913 accepted as Pyura georgiana (Michaelsen, 1898)

From reference: Van Beneden, E.; de Selys Longchamps, M. (1913). Zoologie...


Click here to return to thumbnails.
---
Disclaimer: WoRMS does not exercise any editorial control over the information displayed here. However, if you come across any misidentifications, spelling mistakes or low quality pictures, your comments would be very much appreciated. You can reach us by emailing info@marinespecies.org or adding a comment, we will correct the information or remove the image from the website when necessary or in case of doubt.