WoRMS Photogallery
---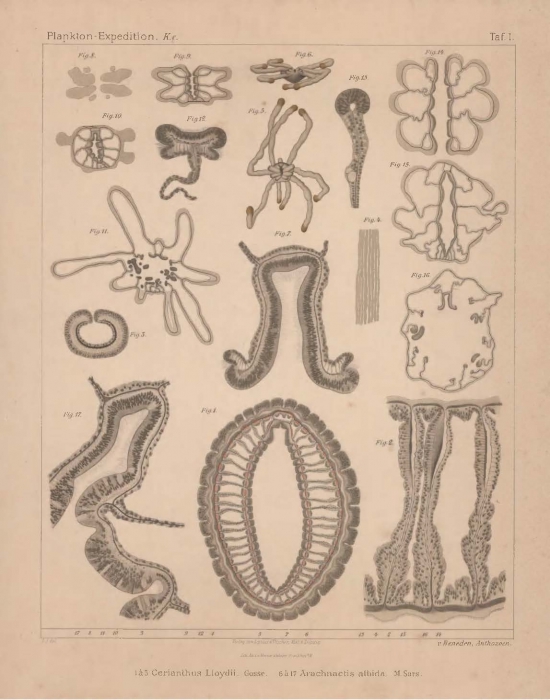 Van Beneden (1897, pl. 01)
Description: Fig. 1 à 5 Cerianthus lloydii Gosse. Fig. 6 à 17. Arachnactis albidaM. Sars.
Fig. 1. Coupe faite dans la region actinopharyngienne de la colonne; muscles endodermiques colores en rose X32
Fig. 2. Portion d'une coupe semblable à la precedente, pour montrer les muscles des cloisons. La colonne au bas de la figure, l'actinopharynx en haut. L'on voit, les coupes de trois sarcoseptes, montrant les fibrilles musculaires longitudinales, sous la forme de grains brillants, sur l'une des faces de la mesoglee epaissie, au voisinage de l'actinopharynx. Sur l'autre face les fibrilles musculaires sont transversales, au niveau des memes epaississements. Plus en dehors elles paraissent etre obliques sur les deux faces. Tant à la paroi murale que dans la paroi pharygienne la couche musculaire est epaissie et manifestement segmentee. X160. Les mots longitudinal et transversal sont pris comme synonymes, le premier de parelle, le second de perpendiculaire à l'axe oro-aboral.
Fig. 3. Coupe d'un tentacule marginal au niveau d'un orifice. X80.
Fig. 4. Fibrilles musculaires endodermiques transversales, grossies 650 fois, telles qu'elles se presentent dans une preparation comme celle qui a ete representee fig. 3 (portion avoisinant l'actinopharynx du sarcosepte median de cette figure.
Fig. 5. Arachnactis albida, vu à la loupe, par sa face actinostomienne (exemplaire I).
Fig. 6. La meme larve vue de l'avant, pour montrer la forme discoïdale de la colonne.
Fig. 7. Hyposulcus de la meme, tout pres de l'enterstome. (X230.)
Fig. 8-11. Coupes transversales successives de l'exemplaire I. (X25.)
Fig. 8. Sommet du cone buccal.
Fig. 9. Milieu du cone buccal, les coupes sont un peu obliques d'avant en arriere et de haut en bas.
Fig. 10. Plus pres de la base du cone. Les saillies laterales representent les ebauches des tentacules labiaux, coupes suivant leur axe dans la figure 9.
Fig. 11. Au niveau de l'insertion des tentacules marginaux.
Fig. 12. Sarcosepte avec enteroïde trifoliaire. (X230.)
Fig. 13. Le meme plus loin de l'enterostome; les gouttieres et les bandes cilaires ont disparu. (X230.)
Fig. 14-16. Coupes transversales de l'exemplaire II. (X25.)
Fig. 14-15. Par le cone buccal
Fig. 16. En deça de l'insertion des tentacls marginaux.
Fig. 17. Portion d'actinopharunx du meme pour montrer 1° la difference de structure des cotes et des sillons actinopharyngiens, 2° la structure de sulcus. (X230.) Datum: 1897
Author: E. Van Beneden
JPG file - 274.61 kB - 1147 x 1462 pixels
added on 2011-08-17 - 490 views
WoRMS taxa
Arachnactis albida Sars, 1846
checked Molodtsova, Tina 2012-09-21
Cerianthus lloydii Gosse, 1859
checked Molodtsova, Tina 2012-09-14
From reference: Van Beneden, E. (1897). Les Anthozoaires de la Plankton-E... (page 223)


Click here to return to thumbnails.
---
Disclaimer: WoRMS does not exercise any editorial control over the information displayed here. However, if you come across any misidentifications, spelling mistakes or low quality pictures, your comments would be very much appreciated. You can reach us by emailing info@marinespecies.org or adding a comment, we will correct the information or remove the image from the website when necessary or in case of doubt.