WoRMS Photogallery
---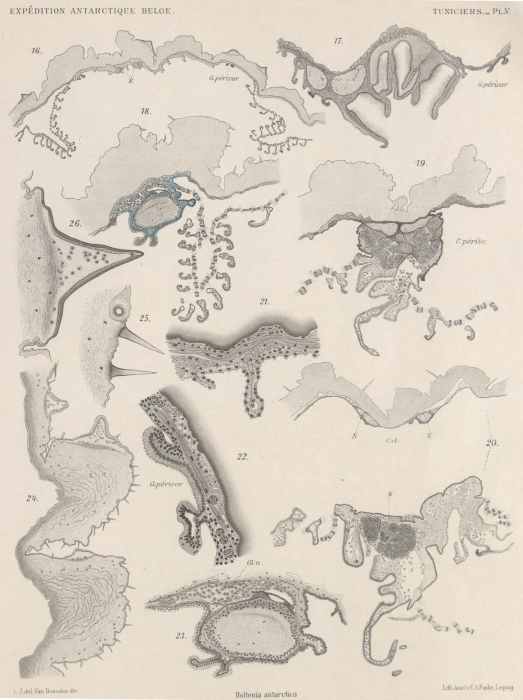 Van Beneden; de Selys Longchamps (1913, pl. 05)
Description:
Boltenia antarctica, synoniem van Pyura georgiana (vervolg) Figuren 16 tot 20, transversale doorsneden in het intersifonale gebied, gevolgd van voor naar achter (de serie heropbouwend, die gemaakt is van achter naar voor). – Exemplaar C.
Doorsnede passeert voorwaarts het trilorgaan en de hersenen, en toont de twee tentaculaire zenuwen en de pericoronale cirkel, twee keer doorgesneden. Tussen de twee zenuwen, op de mediodorsale lijn, ziet men een epitheliale plooi (cf. fig. 21). Vergroting: x48
Doorsnede door het trilorgaan, waarvan men links het voorste, gesplitste deel van de hersenen ziet. Vergroting: x88
Doorsnede betreffende de hersenen (details op fig. 23). Vergroting: x88
Doorsnede door de achterkant van de hersenen, door de basis van twee achterste zenuwen, maar nog vóór de cloaca. Vergroting: x88
Doorsnede door de cloacale holte, in de wand waar de twee zenuwen uit voorgaande figuur zich bevinden. Vergroting: x88
Mediodorsale plooi van de prebranchiale zone (cf. fig. 16). Vergroting: x400
Pericoronale gleuf (cf. fig. 16). Vergroting: x400
Details van een naburige doorsnede waarvan figuur 18 het geheel geeft, en dat de dwarsdoorgesneden hersenen toont. Vergroting: x175
Transversale doorsnede van de externe tunica, exemplaar C. Vergroting: x88
Details van de spinules van de voorgaande doorsnede. Vergroting: x520
Beeld van een doorn van dezelfde doorsnede. Vergroting: x175

Author: E. Van Beneden; M. de Selys Longchamps
JPG file - 881.73 kB - 2425 x 3250 pixels [more]
added on 2009-08-18 - 1100 views
WoRMS taxa
Pyura georgiana (Michaelsen, 1898)

Boltenia antarctica Beneden & Selys-Longchamps, 1913 accepted as Pyura georgiana (Michaelsen, 1898)

From reference: Van Beneden, E.; de Selys Longchamps, M. (1913). Zoologie...


Click here to return to thumbnails.
---
Disclaimer: WoRMS does not exercise any editorial control over the information displayed here. However, if you come across any misidentifications, spelling mistakes or low quality pictures, your comments would be very much appreciated. You can reach us by emailing info@marinespecies.org or adding a comment, we will correct the information or remove the image from the website when necessary or in case of doubt.