News
Talitraits: Feeding the Talitridae species in WoRMS with a variety of ecological information
Added on 2018-06-05 16:25:49
by Vandepitte, Leen
Last week - on May 30 and 31st – 8 thematic experts on Talitridae came together for the first time during a LifeWatch-WoRMS sponsored workshop. The workshop took place at the Hellenic Centre for Marine Research in Crete, where it was organized back-to-back with the 8th International Sandy Beaches Symposium (ISBS). The group focused on identifying relevant traits for the Talitridae, and adding this data through the Amphipoda Species Database.
The Data Management Team joined the thematic Talitridae editors at HCMR in Crete, to explain to the group how they can add trait-information to the WoRMS database, through the Amphipoda Species Database portal.
The editors believe that a broad vision - combining taxonomy and ecology - is timely and necessary to allow the formulation of clear hypotheses and their test with respect to the category "talitrids" in a species-environment approach. Talitridae are direct developers, hence the population level, strictly tied to the local environmental condition, makes them an ideal target species to draw baselines, depict patterns and monitor changes.
During the workshop, a list of priority traits for the Talitridae has been defined, and this list has been cross-checked with the traits WoRMS is currently focusing on, such as functional group, feeding type and body size. The Talitridae – about 350 species – are now being completed for these traits. Agreements have been made among the editors on who will be tackling which traits and which species, mainly based on geographic macroareas and editors'main expertise.
The group also discussed plans to communicate on their work through presentations at several upcoming occasions, and they defined a roadmap with specific objectives and deadlines. During this two-day workshop, the editors managed to complete the environment flags, qualitative body size, distributions and feeding type for almost all Talitridae. In total, they added 20 distributions, 184 new traits and 8 new images. The present taxonomic editors for Talitridae also made 72 taxonomic updates. In the next months, they will focus on the quantitative body size of all the species and add distribution information.
The organisation of the workshop and the support of the Data Management Team (DMT) are supported by LifeWatch Belgium, part of the E-Science European LifeWatch Infrastructure for Biodiversity and Ecosystem Research. LifeWatch is a distributed virtual laboratory, which is used for different aspects of biodiversity research. The Taxonomic Backbone of LifeWatch aims at bringing together taxonomic and species-related data and at filling the gaps in our knowledge. In addition, it gives support to taxonomic experts by providing them logistic and financial support for meetings and workshops related to expanding the content and enhancing the quality of taxonomic databases.
Image - from left to right: Charalampos Zafeiropoulos, Davide Iaciofano, Leen Vandepitte, Bart Vanhoorne, Jim Lowry, Lauren Hughes, Filipa Bessa, Wim Decock, Lucia Fanini, Omar Defeo, Ricardo Cardoso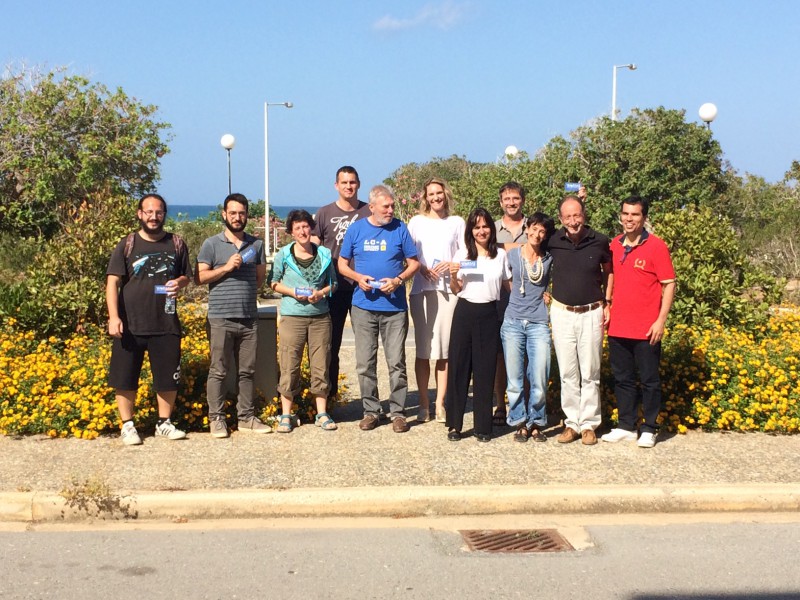 [
Overview
] [
Login
]