Difference between revisions of "Cadgwith"
From MarineSpecies Introduced Traits Wiki
 

Line 35:
Line 35:
 

:Vessel type 2: >10 m vessels

 

:Vessel type 2: >10 m vessels

 
 
−

== References ==

+

==References==

 

<references/>

 

<references/>

 
 
---
Latest revision as of 11:55, 24 November 2014
Cadgwith
Administrative Port: Newlyn
County: Cornwall
Cadgwith is a village and fishing port located in south-west Cornwall, England, on what is known as the Lizard peninsula. From the 16th century, the village became inhabited, with fishing as the main occupation. Subsequently houses, lofts and cellars constructed of local stone and slated roofs were built along Cadgwith's coast leading to its characteristic fishing village appearance. Cadgwith had a significant Pilchard fishery up until the 1950s, however over-fishing meant this fishery became unviable. While fishing is still important to the economy today with fishermen hauling their boats up on the working beach, tourism is the main source of income for Cadgwith with it being a popular summer holiday destination.[1]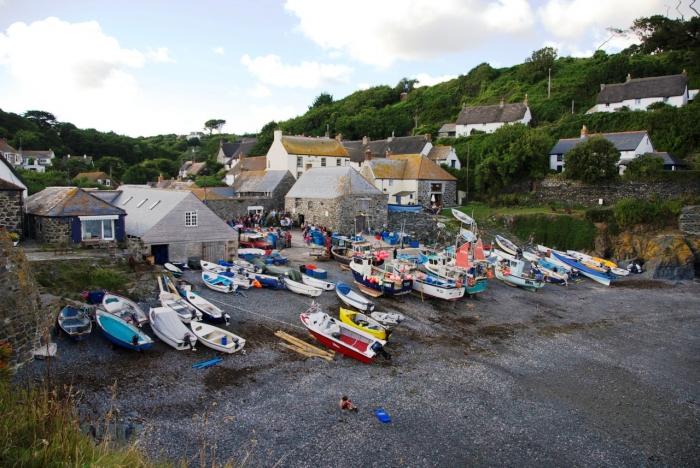 Picture: Fishing boats on the working beach of Cadgwith (Author: GIFS Researcher Photography)
Video: Fishing with a Cadgwith Skipper
Background information
Fishing Fleet
Vessel type 1
101
Fishing Fleet
Vessel type 2
0
Fishing Fleet
Vessel type 3
Fishing Fleet
Vessels total
10 [2]
Landings
Total Landings (tonnes)
Demersal (tonnes)
Landings
Total Landings (tonnes)
Pelagic (tonnes)
Landings
Total Landings (tonnes)
Shellfish (tonnes)
Landings
Total Landings (tonnes)
Main species (tonnes)
Landings
Total Landings (tonnes)
All species (tonnes)
Landings
Values
Demersal
Landings
Values
Pelagic
Landings
Values
Shellfish
Landings
Values
All species
Landings
Number of fishermen
Number of fishermen (Regular)
Landings
Number of fishermen
Number of fishermen (Part-time)
Landings
Number of fishermen
Number of fishermen Total
Landings
Major fish species
Landings
Landing points
Landings
Location of auctions
Governance and organisation
Governance
Cadgwith FLAG
Governance and organisation
FLAG
Cornwall
Governance and organisation
Location of fishermen's organisations

Cadgwith Helford & District Fishermen's Society Ltd

Branding
Brand labels
Fish as food
Fish selling
Fish mongers
Fish as food
Fish processing
Cadgwith Cove Crab The Steamers House, Cadgwith Cove, Cornwall, TR12 7JX
Fish as food
Restaurants/hotels
Tourism & Education
Tourism & Fishing
Fishing/lobster pot hauling trip Nigel Legge - The Forge, Church Cove, The Lizard, Cornwall. TR12 7PQ
Tourism & Education
Festivals
Cadgwith Fishing Festival
Tourism & Education
Fishing museums
Tourism & Education
Aquariums
Tourism & Education
Monuments
Tourism&Education
Fishing training School
Vessel type 1: <10 m vessels
Vessel type 2: >10 m vessels
References