Welcome to the site of Hans De Blauwe
During more than 10 years I studied marine life in the harbour of Zeebrugge and on several other places on the Belgian, Dutch and French coast. This website presents the information gathered about medusa and invasive species from the harbour of Zeebrugge. A comprehensive photogallery illustrates the species involved as well as some remarkable observations, some aspects of my profession and my survival adventure. Above all, this website should inform you about Bryozoans from the southern coasts of the North Sea. Browse to the items in the menu and learn more.
Bryozoa from the Southern Bight of the North Sea (book)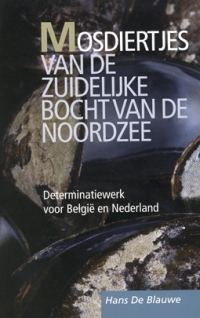 All information that I gathered about Bryozoa of the southern Bight of the North sea is brought together in a book in Dutch. The book was meant to replace the identification key of Lacourt. This website offers information and updates from the book in English/
An identification key in Dutch for marine and brackish water moss animals (Bryozoa) of the Southern Bight of the North Sea. It has become a virtually complete inventory of a group of animals that have been the object of very few studies so far. As many as 179 species are discussed, all of which were found on beaches, in ports and in marine habitats between Cap Gris Nez (Northern France) and the Dutch-German border. The sandy substrate that is predominant in this area is usually poor in moss animal species.
This book is the result of an in-depth study of recent observation and of the review of historical collections:
tide mark material: 75 species on objects washed ashore, of which 46 have not been found anywhere else in the area
on breakwaters and port structures: 20 species
on shells and stones near sandbanks : 80 species
in the past 15 years: 7 exotic species have settled
For convenience's sake a double page has been created for each species: a text on the left-hand side and a set of unique photographs, made especially for this book, on the right-hand side. The photographs include a caption (in English) indicating the abundance of the species among objects washed ashore (B), on hard substrate (S) or as found in historical collections. Thanks to the different determination keys in the book and a 20-30x magnifying glass it is possible to recognise most of the moss animals in the study area.
Errata (book)
Click here to see updates to the book.
Publications
Click here to see my publications.
Credits
Many thanks to my son Hannes for developing and VLIZ for hosting the website.